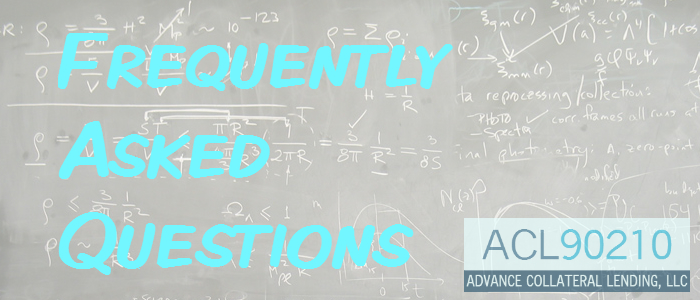 What is a short-term collateral loan?
Typically, a short-term loan refers to a four-month loan guaranteed by a collateral (your personal property). In essence, you give us your jewelry as a guarantee for the loan and we give you the money. If you pay back the interest and the amount we loaned you, we give you back your collateral; if you can't pay back the loan, we keep your collateral and you don't owe us anything.

What types of collateral do you accept?
We loan against gold, silver, or platinum jewelry (any condition), diamonds and other precious stones, fine watches, and some estate items.
How much does a collateral loan cost?
Collateral loan interest rates are regulated by the California Financial Code. We use the rate chart you can see here. Ask us for our competitive interest rates for loan amounts greater than $2500.
When is the interest due on my loan?
Your loan becomes due in full on the 120th day from the date you sign the loan docs and receive your loan check. At that time, you have the option of paying the interest and renewing the loan for another four months, or redeeming the loan by paying the loan amount you received (the principal) and the charges that you incurred (interest) in the four months, which is a flat fee.

How much can I get for my jewelry?
That depends on the appraised value of your jewelry and on the value of gold (or other precious metals in your jewelry) on the day we appraise it for you.
What happens to my jewelry and watches after I give them to you?
When the loan transaction is completed, we seal your personal property together, and we safekeep it for you in a secure bank vault. The loan collateral remains intact until you are ready to collect it and you unseal it yourself.
Do you check my credit to give me a collateral loan?
Nope! That's the beauty of collateral loans, they are already guaranteed by your personal property so we don't do anything to your credit.

Do you need my ID to give me a collateral loan?
Yes, we need personal identification from you to process the loan. Most government issued IDs with a photo will work.

How much time do I have to pay my interest?
You'll have four months, plus 10 days in the grace period afterwards, to pay the loan interest. You can pay your interest at any time during those four months to renew your loan. You'll need to pay the interest charges in full by the end of the grace period, otherwise you'll forfeit the loan.

What happens if I can't pay my loan when it's due?
Since your loan is already guaranteed by the personal property (jewelry, watch, or estate item) that you put up against it, you don't need to do anything else and nothing happens to your credit. It would be the same as if you had sold something to us, right off the bat.

What's the maximum loan I can get for my jewelry?
It depends on what your jewelry or watch is worth. We have loans that range from $100 up to $100,000.

Do you accept credit cards or debit cards?
Unfortunately, no. Only cash, checks are accepted for interest payments. We only accept cash for the full redemption payment (if you want to pick up your collateral).